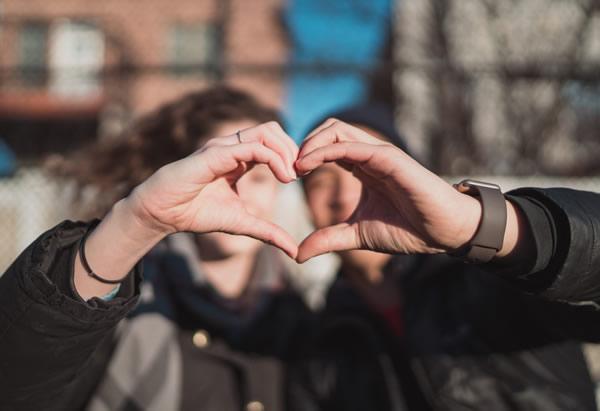 Too often business is all about doing what your head tells you to do rather than your heart. Leaders are ideally positioned to put humanity, compassion, and purpose back into the workplace, so why not use that power?
By putting people first, and by tapping into employees' unlimited wells of creativity, initiative, and productivity, the psychic and the financial rewards to your company and the people who work within it will be truly remarkable. Here's how.
1. CONNECT WORK TO A MISSION
If you don't know where you're going, any road will take you there. The heart-centered leader is a master of divining an organization's mission and then developing a vision for what paths the organization should take to achieve it. Everyone's work is positioned as part of a larger, big-story purpose. As Xerox PARC guru John Seely Brown put it, "The job of leadership today is not just to make money. It's to make meaning."
2. SPEAKING OF CONNECT. . . CONNECT!
Business is built on a foundation of strong relationships both inside and outside the organization. This makes two-way communication and true dialogue with your people critically important. The best leaders encourage an open flow of ideas throughout the organization and break down the walls that separate employees from one another.
3. LEAVE NO EMPLOYEE BEHIND
None of us is as smart as all of us. Every employee is a source of unlimited ideas on how to improve his or her organization's products, work processes, and systems. Most employees simply need to be invited to participate and then positively reinforced when they do. However, employee participation only works in an environment of complete and unconditional trust.
4. DON'T JUST TOLERATE WORK-LIFE BALANCE, INSIST ON IT
In the past, companies demanded–and got–the best part of their employees' lives. Today, the people who run the most successful companies have learned that helping workers balance their lives on the job and off results in a healthy environment with less stress, much higher productivity, and much lower employee turnover. That is a sure recipe for a better bottom line.
5. SHARE THE WEALTH
Former Labor Secretary Robert Reich provides two compelling reasons that organizations should share financial success with their employees: First, if you want to attract and keep talent, you have to pay for it. Second, if you want that talent to work with the enthusiasm that comes from ownership, you have to trade equity for it. By sharing the wealth with your people (through competitive pay, performance bonuses, stock options, and the like), you create extremely powerful organizational glue.
6. HAVE MORE FUN
Employees who have fun at work are happy employees, and happy employees are more productive employees. Not only that, but research shows that fun restores immunity, elevates endorphins, and reduces diseases and work absences. There's simply no reason to have unhappy employees in your organization. Can't think of anything fun to do? Consider afternoon bowling outings, baseball games, cookouts, goofy hats, impromptu karaoke contests, and mock casinos for a start. Or just ask your employees.
7. BELIEVE IN THE POWER OF ONE
When you lead with your heart, others are sure to be touched, both inside and outside the organization. Putting people first is the key to unleashing the full power and creativity of employee teams, superior customer service, strengthened client relations, and closer and more productive relationships with vendors and suppliers. One person can make all the difference in the world, and there's every reason for that person to be you.
To secure your best year yet, you may consider using a service like this one. In just minutes, you can create a custom card, add a personal message and picture, and do it all right from your mobile device! You can even include one of their many gift selections like their amazing brownies, their new premium line of chocolates, you can even include a Starbucks card!
If you would like to learn more about how to incorporate a Relationship Marketing Strategy in your business, feel free to call or text me (Andrea Shepherd) at 424-442-0143. I will answer all your questions and help you build relationships, increase referrals, and make an amazing impression on all your clients, friends and family!
Source: Inc.com

Subscribe to this blog's feed