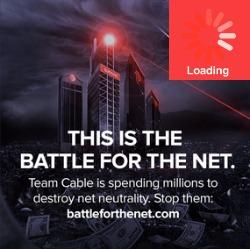 September 10, 2014 was a day of protest against proposed changes to net neutrality rules.
Internet Slowdown Day really did not actually slow the internet. Instead, a coalition of companies referred to as Team Internet posted symbolic "loading" icons on their website or blogs to underscore the issue.
FCC rules founded in 2010 compel Internet service providers to treat all web traffic consistently. In 2011, Verizon brought a case against the FCC, charging that alreadying existing rules disallowing companies from buying and selling fast-lane availability were against the law. In January 2014, a federal appeals court ruled in Verizon's favor.
In April, the FCC contemplated updated rules that could create a two-tiered internet-- fast lanes for those who can afford to pay for an enhancement and slower lanes for those who can't.
The FCC received over 3.7 million comments on the topic. The FCC held a series of open internet roundtables discussions but no decision has been announced.
Click this link to read Five Major Ways the Internet Will Change Without Net Neutrality.

Subscribe to this blog's feed