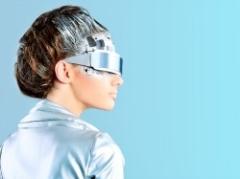 The laptop freed us from the desktop computer. The smartphone and tablet took us mobile. If recent Google news (Google is Finally Getting Serious About Wearables) and popularity of SXSW conference sessions on the topic of wearable devices are any indicator, we'll all soon be suited up with smartglasses, smartwatches and other tech devices.

The standing room only SXSW "Accelerator" event consisted of five-minute pitches by 16 new businesses selected from 500 companies that applied. Companies selected for the wearable technologies category were:
BioNym - presented the Nymi, a wristband that uses an electrocardiogram as a means to connect people to devices and services without requiring passwords.
Wearable Solar - showed off its clothing designs that feature cells that charge a phone when the clothes are worn for two hours in direct sunlight.
Skully (winner in the category) - demonstrated the Skully motorcycle helmet with an advanced situational awareness system, showing navigation and blind spot data. The company has already partnered with Harley Davidson.
Imagine the marketing opportunities when wearable technology becomes ubiquitous!

Subscribe to this blog's feed