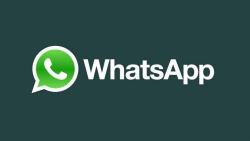 WhatsApp is a cross-platform mobile messaging app which allows users to exchange messages without having to pay for SMS. Last month, Facebook CEO Mark Zuckerberg announced an agreement to buy WhatsApp for $16 billion—$4 billion in cash and $12 billion in Facebook shares. Much like Instagram (another startup acquired by Facebook), WhatsApp will operate independently within Facebook.

In a February 19 Facebook post, Zuckerberg wrote: "I'm looking forward to what Facebook and WhatsApp can do together, and to developing great new mobile services that give people even more options for connecting."

Privacy groups have filed a complaint with the Federal Trade Commission that reads (in part):
WhatsApp built a user base based on its commitment not to collect user data for advertising revenue. Acting in reliance on WhatsApp representations, Internet users provided detailed personal information to the company including private text to close friends. Facebook routinely makes use of user information for advertising purposes and has made clear that it intends to incorporate the data of WhatsApp users into the user profiling business model. The proposed acquisition will therefore violate WhatsApp users' understanding of their exposure to online advertising.
Click here to read the entire complaint.

Subscribe to this blog's feed