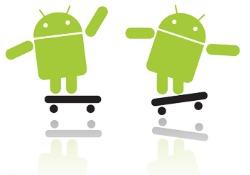 A study by J.D. Power discovered that in 2012, 47 percent of vehicle owners indicated they used a downloaded app on their smart device for navigation in their car or truck, compared with 37 percent in 2011. Notably, 46 percent of owners indicate they "definitely would not" or "probably would not" repurchase a factory-installed navigation system if their smartphone navigation could be displayed on a central screen in their car.
Who wants to pay for an old style navigation system when we have smartphones with free map service? And a pricey built-in DVD package when we have hand-held devices to keep passengers (i.e., whining kids) occupied during car trips? Car manufacturers are on the losing end of these advances in technology; they've seen the future and they want a piece of it.
In June 2012, BMW, GM, Mercedes, Jaguar, Audi, Land Rover, Toyota, Chrysler and Honda coordinated with Apple to incorporate "eyes free" Siri-compatibility into their automobiles. Using a voice command button on the steering wheel, Siri Eyes Free enables the driver to make and receive calls, select and play music, audibly send and receive text messages, access Maps and get directions, audibly receive notifications, set reminders and more, all without looking away from the road.
This month, Google, along with technology and auto industry leaders, announced the "Open Automotive Alliance" (OAA). The OAA is committed to bringing the Android platform to cars, with the goal of making technology in the car safer, more seamless and more intuitive for everyone.
Jen-Hsun Huang, president and chief executive officer of NVIDIA said, "The car is the ultimate mobile computer. With onboard supercomputing chips, futuristic cars of our dreams will no longer be science fiction. The OAA will enable the car industry to bring these amazing cars to market faster.".
The first cars with Android integration are expected to be delivered by the end of 2014.

Subscribe to this blog's feed