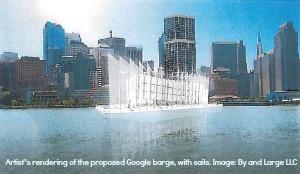 Not a virtual barge, a real barge, docked in San Francisco Bay. A second one has been towed into Portland Harbor, Maine and reportedly, two more are under construction.

As with all things Google, there's plenty of mystery because Google isn't saying much. On November 6th, Google released this statement: "Although it's still early days and things may change, we're exploring using the barge as an interactive space where people can learn about new technology."

The barges are owned by a company called By and Large, LLC, which appears to be a front for Google. It has not gone unnoticed that the name of the fictional company in WALL-E, the animated film about a robot who is designed to clean up a futuristic waste-covered Earth, is Buy N Large. For more insight, read Google's crazy barge scheme: Your complete guide.

Subscribe to this blog's feed